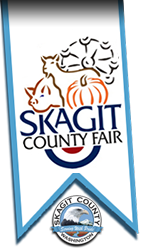 Skagit County Fair
August 7-10, 2019
Details

The auction will be held Friday night:
6:00 pm, August 9th
Skagit County Fair Pavilion
Mount Vernon, WA.

Come and meet all of the exhibitors and see their projects during our social beginning at 5:30.

Forms and Books

Quality Assurance Forms

Beef
Market Goat
Market Lamb
Rabbit and Poultry
Swine





Students are working hard on their animal projects raising lambs, beef, goats, pork, rabbits, and poultry: chickens and turkeys. Exhibitors are learning animal husbandry, veterinary medicine, economics, business and marketing, as well as leadership skills. This experience is preparing them for a future as involved citizens, community leaders and wise decision makers. Career exploration includes agriculture and beyond. We invite you to continue supporting our youth. Today's youth are tomorrow's future and promise.