Skagit County Corrections
Chief of Corrections: Charlie Wend
SKAGIT COUNTY CORRECTIONS: OUR MISSION
To provide the residents of Skagit County with a jail which follows current high professional standards, allowing inmates quality human existence while awaiting trial or serving a sentence deemed appropriate by our court system

Have questions about applying? We have answers!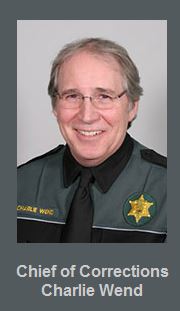 The Skagit County Jail was opened in April of 1984 and was originally designed to house a total of 83 inmates. In those first years the jail booked an average of approximately 2500 inmates per year. By 2004, that number had grown to over 6000 inmates per year. Between the years of 1984 and 2003, the Skagit County Jail experienced over a 240% increase in the average daily population for the facility.
The Skagit County Sheriff's Office Corrections Division is an around the clock, 24/7 operation. Currently 40 Corrections Deputies, 5 Corrections Sergeants, and 1 Lieutenant are responsible for providing safe and secure housing for inmates being held in the custody of the Skagit County Jail. The staff of the jail is also responsible for inmate movement outside of the jail facility, such as court appearances, medical appointments, etc. In addition to the Division's in-house responsibilities, 5 Corrections Deputies and 1 Corrections Sergeant are responsible for peripheral duties which include Medical Liaison, Jail Billing, Court Security, and the Jail Alternatives Program. The Jail Alternatives Program offers alternatives to standard methods of incarceration for those who qualify. Such alternatives include Work Release, Community Service and Electronic Home Monitoring. Further, the Corrections Division employs one civilian working as the Division's Case Expeditor, responsible for facilitating the resolution of cases with multiple charges from multiple jurisdictions.


VINELink: Automatic notification of offender release.
VINELink FAQ (Pdf)