Equipment Division
County Engineer: Paul A. Randall-Grutter, P.E.
Equipment Rental and Revolving Fund Manager: Rick Owens

WELCOME TO THE MECHANIC SHOP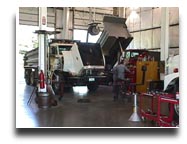 The Mechanic Shop is an invaluable part of the Equipment Division. The Shop is responsible for the maintenance of the County Fleet.  The Shop also performs maintenance on the Central Valley Ambulance fleet, County Search and Rescue Vehicles and for several other reimbursable customers.
Preventative maintenance is an integral part of the Shop's operation. All drivers are asked to complete a walk-around safety check, before using each vehicle.

Please contact the County Shop for any maintenance needs.
201 East Avon Avenue
Burlington, WA 98233
Phone: 360-416-1490

Hours
Monday: 6:30am-5:00pm
Tuesday- Thursday: 6:30pm-10:30pm
Friday: 6:30am-5:00pm
Manager: Rick Owens
Office: 360-416-1494 | Cell 360-661-6043

Shop Supervisor: Jeff White
Office 360-416-1495 | Cell 360-661-6045