Planning and Development Services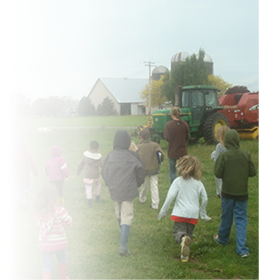 Agritourism is "a commercial enterprise at a working farm,
ranch, or agricultural plant conducted for the enjoyment of
visitors that generates supplemental income for the owner."
(Source: UC Davis)
Skagit County is reviewing what agritourism means to the
County's agricultural community, rural residents, and other
stakeholders. Future agritourism policies will fit the
Comprehensive Plan vision and the Growth Management Act
resource land protections.
How to Participate

Documents
Exploration and analysis of agritourism in Skagit County will result in the development of a report on the economics of agritourism, a current assessment of County policies, and case studies from near and far. The study is anticipated to address the current situation with farmstands and value added activities, agricultural recreation, and options for other types of agritourism such as potential food service on farms, wedding venues, temporary event spaces, etc.
An Agritourism Concepts report will follow that address a range of agritourism concepts and objectives. This will include a comparison of policies in terms of opportunities, strengths, and weaknesses.
Based on feedback from this report, a legislative proposal will be developed for consideration by Skagit County. This will allow the County to propose amendments to the Comprehensive Plan, zoning map, and development regulations to address agritourism