Planning and Development Services
Stormwater Management Code Update
www.skagitcounty.net/stormwaterupdate
The Federal Clean Water Act requires jurisdictions to implement stormwater management programs and regulations within prescribed time frames. The Department of Ecology (ECY) has been delegated authority by the Environmental Protection Agency (EPA) to administer these regulations. ECY issued the Phase II Municipal Stormwater Permit for Western Washington (NPDES: National Pollutant Discharge Elimination System), effective August 1, 2013 through July 13, 2018, which requires local governments like Skagit County to adopt the 2012 Department of Ecology Stormwater Management Manual for Western Washington ("2012 Manual").
The regional trend of developers transitioning from the use of conventional stormwater facilities to Low Impact Development (LID) best management practices (BMP's) is reflected in the 2012 Manual's new requirement for LID (unless it can be shown it's not feasible on a site), rather than just encouragement of LID BMP's. Skagit County adopted Ordinance # O20150006 (Attachment 1) in 2015, implementing the 2012 Stormwater Manual pursuant to edits to Title's 14 and 15, and the creation of Title 16 in compliance with the County's NPDES permit. Site development projects within the NPDES permit areas, defined as the Urban Growth Areas (UGA's) and Flood Hazard Areas in Skagit County are subject to the requirements of the 2012 Manual as shown in Figure 1, below. Site development projects outside of the NPDES permit areas that meet the land disturbance thresholds described in SCC 14.32.020 are not required to implement LID, but are still evaluated for compliance with the 2012 Manual and Chapter 14.32.
Figure 1: 2017 Skagit County Municipal NPDES Coverage Areas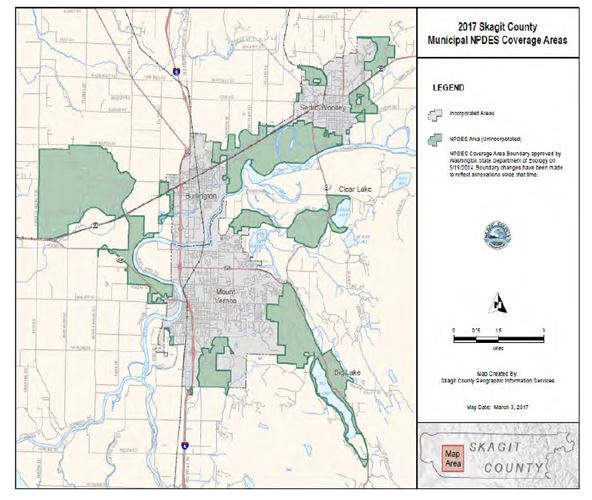 Select for Pdf
Pursuant to the adoption of the 2017 Legislative Work Program, Resolution # R20170012, PDS is proposing amendments to SCC Chapter 14.32 – Stormwater Management to clarify the thresholds and performance standards for developments outside of the NPDES Phase II permit areas. The following section identifies the portions of Chapter 14.32 to be edited and describes how the changes will be harmonized with the new Land Disturbance chapter (SCC 14.22).