Skagit County Sheriff
"Committed To Your Safety"
ADMINISTRATION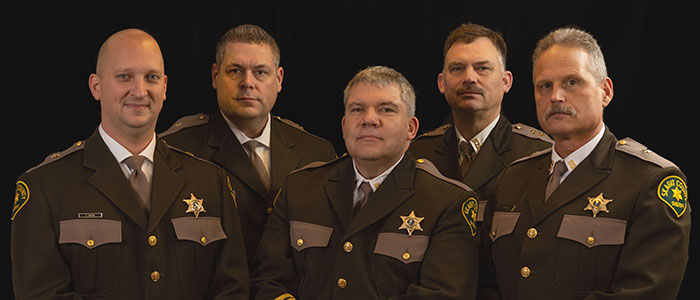 The Skagit County Sheriff's Office administration division is made up of elected and appointed officials that oversee every aspect of the sheriff's office day to day operations. Sheriff Don McDermott is the highest ranking law enforcement official for Skagit County.

Undersheriff Chad Clark oversees the daily operations of the office. Additional responsibilities include; policy review, strategic planning, crime analysis, labor negotiations and background investigations for new employees.

Chief Criminal Deputy Tobin Meyer leads the investigations unit as well as heading up the local Drug Enforcement Unit made up of various local, state and federal officers. Additional responsibilities include evidence, registered sex offenders, participation in the multi-agency response team (SMART) and public information.

Chief of Field Operations Chris Baldwin handles the patrol division and all of the related activities and functions, including high risk team, boating, search and rescue, pro-active patrol unit, K-9 and neighborhood watch programs.
Corrections Chief Don Marlow leads the jail staff and oversees all jail related issues. Chief of Administration Services, Annette Lindquist, manages the day to day operation for the support staff and records as well as working with accounting to manage the budget.
Lt. Randall Secrest oversees the day to day operations in the jail.
The administration is currently stationed out of the Mount Vernon sheriff's office located at 600 South Third Street in Mount Vernon WA 98273 and can be contacted by phone at (360) 416-1911 during normal business hours or by email at Sheriff@co.skagit.wa.us to assist with your concerns, comments or other needs.



Sheriff
Don McDermott

Undersheriff
Chad Clark


Chief Criminal Deputy
Tobin Meyer

Chief of Field Services
Chris Baldwin


Chief of Corrections
Don Marlow


Chief of Administrative Services
Annette Lindquist


Administrative Correction Lieutenant
Deanna Randall Secrest

Operations Correction Lieutenant
CJ Andersen