Skagit County Sheriff
"Committed To Your Safety"

RECORDS

Address: 600 South Third Street Mount Vernon WA 98273
Business Phone: (360) 416-1911 - Emergencies Dial 9-1-1
Business Fax: (360) 416-1924
The Sheriff's Office is open for records requests from to 8:30 to 4:30 Monday through Friday, excluding holidays and county closure days.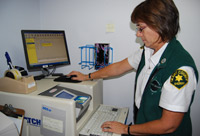 The Records Division of the Skagit County Sheriff's Office is staffed by 7 support Services Technicians and occasional volunteers. The Records Division is responsible for transcription of police reports, processing and issuing concealed pistol licenses and other miscellaneous permits, fingerprinting, public disclosure requests, dissemination of police reports to the prosecutor, warrant and order entry, and reception.
The Skagit County Sheriff's Office is committed to responding to your requests for public records in a timely manner. We prefer requests be made in writing. The Records Division will disseminate the information in accordance with the Washington State Public Disclosure Act (RCW 42.56). A clear description of the specific report you are requesting will help expedite your request.
The following information will be most helpful:

Case number

Your identity (can make a difference how much information you are entitled to)
If you do not have the case number, you will need to provide:
The date time and location of the incident

Persons involved
The methods for requesting a copy of a case report are:
In person:

Come to the front desk of the Sheriff's Office, 600 South Third, Mount Vernon

Present appropriate identification

Fill out a public records request form (doc) (pdf)

By Mail: Mail requests to:


Skagit County Sheriff's Office Records
600 South Third
Mount Vernon, WA 98273

By E-mail
sheriff@co.skagit.wa.us

By Fax:
(360) 416-1924