Skagit County Sheriff
"Committed To Your Safety"
BUSINESS RESOURCES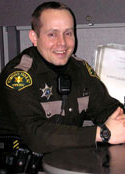 The Skagit County Sheriff's Office works closely with our business community to assist with various security and law enforcement related functions. Our deputies meet regularly with business owners to help them minimize their exposure to criminal activity from both internal and external sources of criminal activity. Our deputies will conduct a walk around of your business with you and provide suggestions to help keep your business and employees safe.
Safety and Security Tips
- Lighting is an excellent deterrent. Light dark alleyways, parking lots, and building perimeters.

- Camera's may be expensive but placed in a strategic spot they can deter both criminals and potential employee theft.

- Conduct thorough background checks on all employees. Employee theft counts for the majority of loss due to criminal activity within the business environment.

- Keep shrubs and trees away from the exterior of your business.
- Clean graffiti, garbage, and other damage as soon as possible to keep it from spreading.

- Meet with other business owners in your area and get to know them. Keep watch for each other and share suggestions on safety and security.

- Do not keep items of value in an unsecured location. Tools or equipment left outside or in an unsecured building are an easy target. Take the the time to move valuable items to a secure location.
- Take the time to check all windows and doors prior to closing and make sure they are secure.
- Trust your instincts. Report any suspicious vehicles or persons by dialing 911. If something doesn't look right or feel right error on the side of caution.
If you are interested in meeting with a deputy contact the sheriff's office by email at sheriff@co.skagit.wa.us, by phone at (360)416-1911, or in person at 600 South Third Street in Mount Vernon WA 98273.